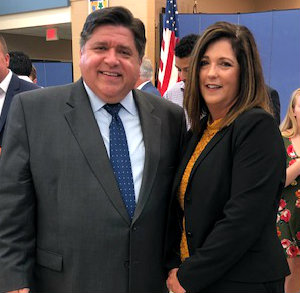 On August 15th, Governor JB Pritzker announced the launch of a statewide strategic initiative to guide broadband expansion as part of the $420 million investment in broadband infrastructure included in the Rebuild Illinois capital plan. 
North Central Behavioral Health Systems (NCBHS), having been one of Illinois' first providers of Telehealth services, was extended an invitation to attend the Governor's event, in addition to becoming a member of the Telehealth Working Group under the Illinois Broadband Advisory Council.  Since 2005, NCBHS has been providing psychiatry services through telehealth platforms, and have since expanded their outpatient individual and group services via telehealth.
The goal of Connect Illinois is to consolidate state resources and increase private- and public-sector collaboration to expand broadband access to benefit telehealth, education and economic development, the release states.
"High-speed broadband internet is an absolute necessity for economic progress and educational attainment, but too many of our towns and counties and communities have been left out of the digital revolution, especially downstate. Our Broadband Advisory Council will be guided by three areas of focus for Illinois' success in the 21st century: education, telehealth and economic development. By working together, we're going to Connect Illinois."
North Central Behavioral Health Systems is a nonprofit 501(c)3 corporation governed by a community Board of Directors that provides a wide variety of community education, prevention, mental health, and substance treatment services, as well as intensive home and community-based and related services through ten service location facilities in Central and North Central Illinois.
The organization serves over five thousand patients per year from more than one hundred communities in La Salle, Bureau, Putnam, Marshall, Stark, Fulton and McDonough Counties.  NCBHS has National Quality Approval through Joint Commission Accreditation

.