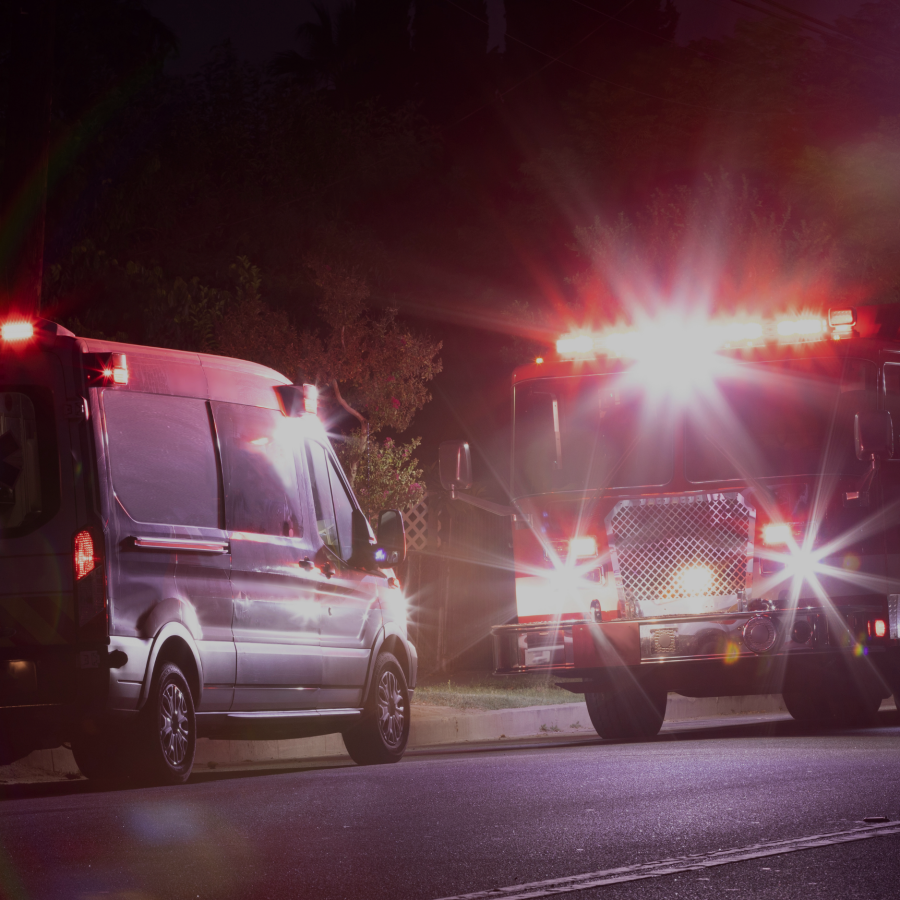 First Responder Mental Health Action Plan
First responders, including firefighters, emergency medical services (EMS), and police officers, often experience stressful and traumatic events due to the nature of their work. The combination of exposure to trauma, demanding schedules, and physically challenging roles puts first responders at an increased risk for mental health issues such as depression, post-traumatic dress disorder (PTSD), stress, and suicidal behaviors. If you or someone you love are a first responder experiencing stress, learn how to take action below.
Trauma-Informed Coping Strategies For First Responders
Prioritize Boundaries: Learn how to say no or not right now. It is OK to take time off.
Schedule Regular Daily Activities: Walking and doing other kinds of physical activity provides a break from job-related stress and boosts natural serotonin production.
Limit Social Media: Negative coverage and discussions are not helpful to people experiencing depression, anxiety, or PTSD.
Think About Nutrition: Evidence shows that drinking water and being more intentional about what you put in your body can help improve physical and mental function.
Do Something You Enjoy: Give yourself something to look forward to outside of your regular work routine.
Talk to Someone: Find someone you trust and tell them how you're feeling. Even if they don't have answers, their attention and support can help.
Find a Healthy Distraction: Listen to relaxing music, work on a puzzle, paint a portrait, knit a scarf…
Be Mindful: Mindfulness puts space between work and everything else. Practice being mindful with decompressing exercises, such as deep breathing.
How to Support First Responders and Their Mental Health
You can help your friend or family member cope with PTSD and manage their well-being by following a few key techniques:
Observe: If you observe the first responder acting erratically or not eating/sleeping well. Gently address your concerns to the first responder.
Listen - Provide an opportunity for them to talk about what happened at work and share their feelings. If you suspect they don't want answers to the problem, just listen.
Professional Help
Addressing a problem before it gets worse takes courage and discipline. And it makes sense to seek professional help for something we do not naturally know a lot about or cannot figure out on our own. Professional clinicians and support groups are ready to provide assistance to first responders.
Firearm Safety in Emotional Crisis
For a first responder who is going through a tough time or an emotional crisis, a safely stored firearm can mean the difference between a tragic outcome and a life saved. As an individual or concerned loved one, you have the power to safely handle and store firearms or initiate a conversation about them.
Having a conversation with someone who likely has some level of firearm training can be challenging, and they may not be receptive to talking about gun storage and security. It can be helpful to suggest the following steps to keep themselves and their family safe:
Make sure firearms cannot be accessed by children or unauthorized adults by keeping guns locked and unloaded.
Store ammunition separately from firearms and out of reach of unauthorized persons.
During periods of increased stress and emotional crisis, reassess steps to ensure the safe storage and use of firearms.
Mental Health and Wellness Resources for First Responders
First Responder Crisis Text Line: 24/7 support for first responders in a mental health crisis. Text "BADGE" to 741741.
Frontline Helpline: Support for first responders and their family members affected by traumatic experiences, staffed by former first responders. Call 866-676-7500.
National Crisis & Suicide Prevention Lifeline: A network of crisis centers that provide emotional 24/7 support to anyone experiencing emotional distress or in a suicidal crisis. Text or call 988.
Illinois Firefighter Peer Support: Network of firefighters trained to offer mental health assistance. Call 855-907-8776 or visit ilffps.org.
Code Green Campaign: Mental health resource and advocacy organization for first responders. Visit codegreencampain.org.
Responder Strong: Online source for first responders and loved ones offering educational resources, professional help, and self-help tools. Visit responderstrong.org.
First H.E.L.P.: Online community connecting families and loved ones of a first responder lost to suicide. Visit 1sthelp.org.
First Responders Foundation: Supports the emotional well-being of first responders and their spouses by providing online support through groups and workshops. Visit firstrespondersfoundation.org.
First Responders Children's Foundation: Provides financial support to both children who have lost a parent in the line of duty and families enduring significant financial hardships due to tragic circumstances. Visit 1strcf.org.
Puppies Behind Bars: Trains inmates to raise service dogs for wounded war Veterans and first responders, and detection canines for law enforcement. Visit puppiesbehindbars.com.
Disaster Responder Assets Network (DRAN): Free resources and access to peer support group meetings via Zoom for first responders and health care professionals. Call 707-200-3765.
CopLine: 24/7 support for police officers and their family members, and is answered by retired police offers who are trained in crisis intervention. Call 800-267-5463 or visit copline.org.
SafeCall: 24/7 crisis line for first responders. Call 206-459-3020 or visit safecallnow.org.
If you or someone you know is experiencing a mental health crisis, help is available by calling, chatting, or texting the 988 Suicide and Crisis Lifeline.